Mid- American Conference Title Odds - Value Picks to Win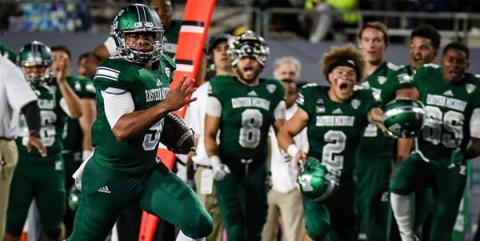 Last year, things seemed to get back to normal in the Mid-American Conference when stalwart and perennial in-conference powerhouse Northern Illinois won the MAC title for the fourth time in the previous eight seasons. The Huskies are an institution in the MAC and have been involved in seven of the last nine Mid-American Conference Championship Games. The only gap in their prevalence was in the 2016 and 2017 seasons where Western Michigan and Toledo took the eggs in those respective years. In 2019, the conference seems to be anybody's to take. Here is our analysis of the best-valued favorite, top contender, and a dark horse who make may waves and take the MAC crown. Bet365 provides the odds.
MID-AMERICAN CONFERENCE VALUED FAVORITE

NORTHERN ILLINOIS +500 - It's hard to pass up the Huskies at this price, given their pedigree and regularity as a fixture in this conference. As mentioned, the Huskies have played in seven in the last nine MAC Championship Games. The Huskies also return 17 starters and/or key players that were integral in the 2018 championship run, including the battery of Quarterback Marcus Childers and Running Back Tre Harbison. The key is to whether or not first-time Head Coach Thomas Hammock can put the pieces together to pull the repeat. Nevertheless, this NIU team is deep and full of quality, and given the acumen of the returnees to this team alone, they certainly bode value as they should certainly be given more respect than they have been granted.
MID-AMERICAN CONFERENCE TOP CONTENDER

EASTERN MICHIGAN +900 – Perhaps on paper, this is one of the better value deals in future markets this season as Eastern Michigan is a far more formidable team than this number reveals. The Eagles have been involved in a large number of one-possession games dating back to 2017. Unfortunately for Eastern Michigan, they were on the bitter end of most of these results. Actually over 65% of the time for that matter. Last year, Eastern Michigan was locked in a dogfight with the 2018 champion, Northern Illinois and came up short falling by a field goal in overtime to the Huskies. In fact, EMU lost back-to-back overtime games against two premiere mid-major sides, the aforementioned NIU, and Mountain West power San Diego State. Had things gone their way perhaps they would have been in playing in Detroit in December.
Nevertheless, the schedule shapes up for Eastern Michigan to enter the meat of their conference schedule with two MAC wins and maybe four to five victories in total. Should EMU have their mojo working, they may find themselves on the right end of tight games and smack dab in the middle of a MAC Championship Game appearance. This team should be priced far lower but because they do not have the namesakes of NIU or Western Michigan as teams that have gone to a BCS/NY6 bowl or Toledo and Ohio as perennial contenders, the figure next to Eastern Michigan's name is likely inflated.
BET YOUR NCAAF MID AMERICAN CHAMPIONSHIP FUTURE PICKS
at a betting site where they will match your deposit up to $1000. That's $1000 free added to your betting account at this solid sportsbook! Check them out --
MyBookie Sportsbook Bonus
MID-AMERICAN CONFERENCE TOP DARK HORSE

BUFFALO +1000 – Call the Bulls a dark horse if you must, but Coach Lance Leipold has demonstrated that he has a penchant for building football programs as consistent top-performers. A multiple-time Division III National Champion, Leipold's thumbprint was all over UB in 2018 when they put together the first-ever 10-win season in school history. The Bulls could have been kings of the Mid-American Conference had they not squandered a 19-point lead in the MAC Championship Game against Northern Illinois, ultimately losing 30-29 when NIU found the end-zone with 1:09 remaining in the game. A team that was so close to glory could be highly motivated to return to the conference's big dance in 2019 and right the wrong of the season past. Leipold knows how to build and sustain teams to compete at a high level, and thus, this makes the Bulls a hungry and dangerous team offered at an economical price.
MID-AMERICAN CONFERENCE FUTURE ODDS ACCORDING TO Bet365 SPORTSBOOK
Toledo +225
Ohio +300
Northern Illinois +500
Western Michigan +500
Eastern Michigan +900
Miami Ohio +900
Buffalo +1000
Central Michigan +4000
Kent State +4000
Ball State +5000
Akron +8000
Bowling Green +8000
TIP: Many paid picks sites claim that their handicappers have extraordinary winning percentages, but most of them are lucky to even break even on any given season. At SBS that's not the case. Lead handicapper Rich Crew hits 58% - 65% most seasons (10 of L12 in CFB and 8 straight in NFL) and the rest of the gang are no slouches either. Get our college football picks free each week!